Keep Glulam Looking Its Best with Proper Storage and Handling
Glued laminated timber (Glulam) has an excellent track record for durability and long-term service for structural uses. Like all wood products, glulam beams and columns are subject to the effects of changes in moisture content caused by changes in temperature and relative humidity on the jobsite and after installation. Glulam beams and columns may develop seasoning checks as the moisture content stabilizes from the level at which they were manufactured to their moisture content in-service.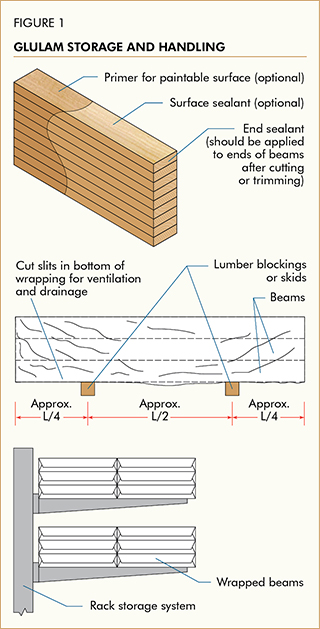 The degree of checking that may occur depends on the combined effects of the initial moisture content, seasonal conditions, handling and storage practices at distribution facilities and jobsites, and the environment after installation. Checking in individual beams or columns will be influenced by how quickly or slowly the moisture content of a glulam member changes from the time of manufacture to the moisture content level in-service.
There are several steps that distributors and builders can take to minimize seasoning checks in glulam that will be exposed to view. If checks do occur, they are primarily a visual concern and can be filled with an elastomeric filler to improve appearance.
Tips for preventing Glulam checking
On the Jobsite:
Keep beams and columns covered to protect them from direct exposure to sun and rain, especially in hot, dry climates.
Ensure that there is no direct ground contact or contact with moist or wet surfaces like fresh concrete or wet surfaces.
Use dry lumber blocking to provide ventilation by elevating beams and columns.
Keep members wrapped until installation and store them well off the ground with secondary cover.
Leave protective wrappings intact, but slit on the bottom side to allow for drainage of any entrapped water.
Apply end sealer when the glulam beam is cut to length at a distribution yard or jobsite.
After Installation:
Limit glulam exposure to weather conditions prior to building enclosure by keeping beams and columns covered and protected as long as practical after installation.
Remove wrapping after installation in the enclosed space so the moisture content of glulam members is allowed to stabilize naturally during construction.
Avoid rapidly drying glulam members with temporary heating units.
After the building is enclosed, it is important to reduce the relative humidity gradually.
Design permanent heating outlets to deflect heat away from glulam members.
Avoid rapid changes in temperature that can affect the rate of drying during the first full heating cycle.
Taking the steps outlined above will reduce the possibility and severity of checking. It is important to coordinate delivery schedules to minimize jobsite storage. Guard against direct exposure of glulam members to severe conditions like high temperatures, rain, and other damaging weather conditions. Hot/dry and wet/winter climates can create high-risk environments, depending on how quickly the moisture content changes. If high-risk conditions cannot be avoided, take extra precautions in storage and installation to protect the beams and columns.
Glulam manufacturers cannot assure that seasoning checks will not occur in individual glulam members as the result of handling and storage at distribution facilities, job site storage, installation, and regional climatic conditions. To reduce the possibility and severity of checking, it is important to coordinate delivery schedules to minimize job site storage.
We have field representatives in many major U.S. cities and in Canada who can help answer questions involving APA trademarked products. For additional assistance in specifying engineered wood products, contact us:
APA HEADQUARTERS: 7011 South 19th Street, Tacoma, Washington 98466 • (253) 565-6600 • Fax: (253) 565-7265
APA PRODUCT SUPPORT HELP DESK: (253) 620-7400 • E-mail: help@apawood.org
Disclaimer: The information contained herein is based on APA – The Engineered Wood Association's continuing programs of laboratory testing, product research, and comprehensive field experience. Neither APA, nor its members make any warranty, expressed or implied, or assume any legal liability or responsibility for the use, application of, and/or reference to opinions, findings, conclusions, or recommendations included in this publication. Consult your local jurisdiction or design professional to assure compliance with code, construction and performance requirements. Because APA has no control over quality of workmanship or the conditions under which engineered wood products are used, it cannot accept responsibility for product performance or designs as actually constructed.
Form No. F455C/April 2015
© 2015 APA – The Engineered Wood Association. All Rights Reserved.